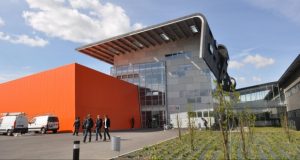 The 5th September arrived and so is the team at the ENIM installations! We are glad to introduce ourselves: Laura, Alejandra and Diana from Colombia, Son from Finland and Lucía from Spain. We will be working hard to assure a smooth development of the project and a great coordination within the work packages.
For keeping updated during the course of the project, follow us through our Twitter and Facebook account and of course in the University of Lorraine site.
We wish you the very best throughout these months!
Laura
Alejandra
Diana
Son
Lucía